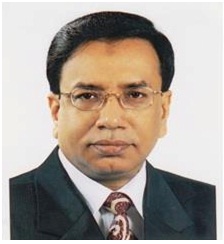 Dr. Engr. Rashid Ahmed Chowdhury
Chairman
Dr. Engr. Rashid Ahmed Chowdhury, The Honorable Chairman, Board of Directors of Bangladesh Commerce Bank Limited (BCB).
Dr. Engr. Rashid Ahmed Chowdhruy was born in a reputed Muslim family from Agrabad, Chittagong. He completed his SSC from Collegiate High School and HSC from Chittagong College. Dr. Chowdhury obtained Associate in Science (Applied Science) & Associate in Applied Science in Mining Technology (Supervisory) from College of Eastern Utah, Price, USA. He also completed BSME & MBA (Management) from National University, San Diego, California, USA. He has completed his PhD from Chittagong University. He has published numerous articles in international peer reviewed journals and also serves as a Reviewer for ACI (Academic International) and ICICKM (International Conference on Intellectual Capital Knowledge Management).
Dr. Engr. Rashid Ahmed Chowdhury is an Associate Professor & Chairman of Department of General Management & Management Information System (MIS) in Chittagong Independent University (CIU), where he has been working since 2001. He teaches courses both at the Undergraduate and Graduate levels at CIU and additionally is serving as the Proctor. He has significant work experience in various international multinational companies such as Carbon County Coal Mine Inc. USA, AIM Inc. USA and Wilwen Enterprise, Los Angeles, USA.
Dr. Engr. Rashid Ahmed Chowdhury has received professional training on Supply Chain Management, Research Methods under Higher Education Quality Enhancement Project (HEQEP), Certificate of Completion in Computer Aided Design, Achievement in Mine Rescue, Welding, and Supervisory Training & Labor Management Relation from Los Angeles & College of Eastern Utah, USA.
He presided over the Seminar on Analysis of Future Passengers Car Structure jointly organized by IEB Chittagong and Hokkaido University Japan. He conducted Training Program on Training Fundamentals organized by the United Nations Economic and Social Commission for Asia and the Pacific (UNESCAP) in association with Bangladesh Freight Forwarders Association (BAFFA) Dhaka. He has also attended numerous seminars on various topics such as Storm Water Management Strategies, Design, Modeling and Best Management Practices, Green Wireless Communication Technologies, Disaster, Climate and Costal Vulnerabilities in Bangladesh, Container Terminal Operations and Management, Business Research Methodology and Stock Exchange: How the Trading Takes Place in Chittagong and an International Conference on Business & Information (BAI) in Bangkok, Thailand.
Dr. Engr. Rashid Ahmed Chowdhury brings a unique blend of academic and industry work experience to his role as Chairman of the Bangladesh Commerce Bank Limited.